Benefits of wearing Melibelt girdles/garment
To choose Melibelt girdles you must first determine what your need is. You may only need to lose weight or simply shape your body; you may just need a girdle that helps you control a specific area of your body such as your buttocks, breast, or abdomen, for this purpose we have a great variety of products that can be adapted to your needs.
Properties with high technology
It helps healing process.

Accelerates the recovery and good result of an aesthetic process.

Hypoallergenic fabric.

Adaptable to weather conditions.

Flat seams that do not hurt and are not noticeable with clothing.

Double abdominal reinforcement.

Reduces pain and ensures movement.

Internal fabric that prevents the growth of fungi and bacteria.

Internal aloe coating for the care and hydration of the skin.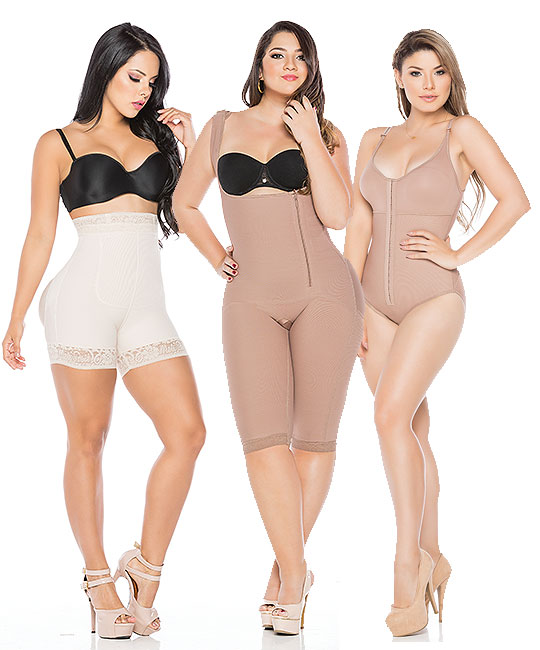 ALOE
Molding and compression garments that you need, offer all the benefits that aloe has, that is released with body movement to give a soft and silky feel to the skin. It has over 75 nutrients, including minerals, amino acids and vitamins thus providing a rich wellness blend for the skin. Available unscented or combined with a gentle scent for care and hydration.
SUN PROTECTION
Absorbs UV and UVB rays, protecting the skin against the harmful effects of ultraviolet radiation. This garment has been made using fabrics with solar guard® technology sun protection UPF 50 (ultraviolet protection factor).
PERFECT FIT, MOVEMENT FREEDOM AND COMFORT
This garment has been made with fabrics containing elastic fibers that provide greater elongation and recovery, to provide better adjustment and freedom of movement for the user.
RE-DISCOVER YOUR FIGURE
This garment has been made with textiles specially designed to generate a shaping effect on the silhouette thanks to the compression force exerted on the body, enhancing the figure while providing flexibility and maximum comfort in both posture and use.